El elefante
My Christmas pressie to myself was a little screenprinting kit. I took it out yesterday to create a little baby shower gift for a friend who loves all types of animals! I really love giving special people gifts that are handmade and personalised. In my new crafty inspired state, this has been lots of fun.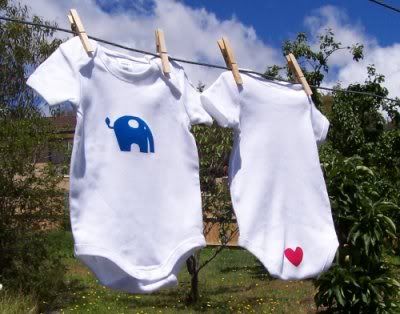 The elephant stencil on these little suits was inspired by some vintage baby blocks on
Hillary's site
a few months ago (I can't find the original post - poo). I filed the photo away because I loved the simplicity of the design. I'll try my hand at designing my own stencils at some stage - maybe even with more than one colour - but don't have a lot of confidence in my creative abilities! I'm seeing inspiration in all kinds of places though - wrapping paper, childrens books, symbols on kitchen appliances - "I could stencil that!"
Labels: craft