felt like doing some felting
I feel like using a cheesy title like that thanks to the marvellous
Stitch n Bitch
book which re-taught me how to knit in the last few months. I was inspired to take up the needles again after spotting Di's excellent
French Market Bag
on
her site
.
Only problem was, last time I knitted was under the careful guidance of Mum when I lived at home and I never had to worry about casting on or binding off, let alone picking up dropped stitches and knitting in the round! Very slowly and with much huffing at the double pointed needles I managed to create this: (!!)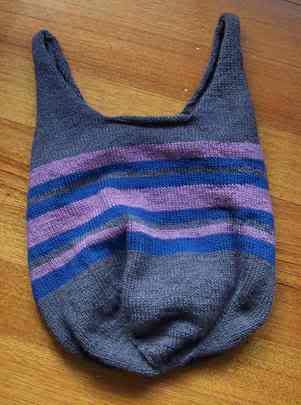 (bag pre felting - about to be chucked in the washing machine with some soap and hot water)
Next installment soon... this juggling photos and things is tricky... rest assured there is a happy ending!
Labels: craft