advice needed please!
Firstly, some more screenprinting show and tell.... I bought some linen and made these Jill-label tea towels for my mum's birthday. I'm very proud of these as they're wholly designed by me - I especially love how the daisy came out - it was inspired by a photo in a gardening magazine. I was hoping the purple would be a bit purpler but I think they look quite good anyway. Borrowed a sewing machine to do the hems. I think that may have to be my next capital purchase.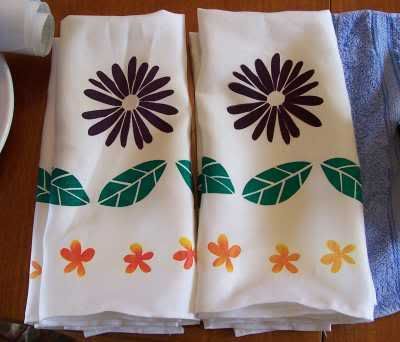 To the advice... as a novice knitter I don't know much about... well anything to do with knitting really. Maybe an exaggeration but I am having trouble deciding on a yarn substitution. I want to knit
Samus
but Brown Sheep Lamb's Pride Worsted [85% wool/15% mohair; 190 yds/171m per 100g skein] doesn't seem to be available easily anywhere here.
The weight suggested to me that it would be equivalent to a 12 ply but I've tried knitting squares on several sizes of needles and keep ending up with around 14 st per 4 inches instead of the suggested 19. I've just done a square of Jo Sharp Luxury 8 ply DK Pure Wool on 4.5 mm needles which has come out at about 19 st and 26 rows per 4 inches, which is good! But it's quite a different weight to the suggested yarn. I wonder if this will this cause any problems? Are there any knitting readers out there who could suggest another good substitute?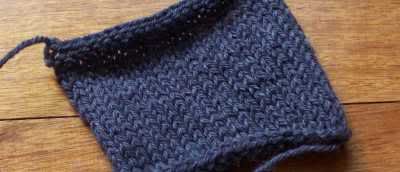 Labels: craft