socks 101
No one could ever accuse me of thinking about something for too long before jumping in and having a go. This attitute has served me pretty well in the past. Well - there haven't been too many stuff ups. Well - not that I can remember.
Anyway, I am feeling a little bit of pressure, having signed up to this sock swap. I know I am in the beginners group, but I thought a bit of preparation and research wouldn't go astray so that my sock buddy doesn't get something really dismal and better suited to headwear than footwear, etc. So I am studying Knitty's
Socks 101
and am currently attempting to construct something recognisable from
Kate's top-down sock training pattern
.
After four false starts (so far), this is where I'm at: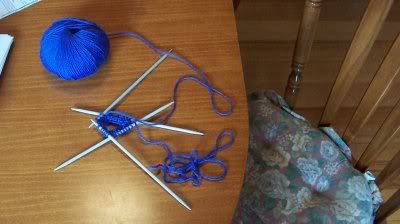 Sitting at the table where I can most easily wrestle the double pointed needles - knitting temporarily stalled after discovery of an unwelcome extra stitch - sustained by a rapidly diminishing supply of kiss biscuits (though still a good number for pleasing geometrical arrangements)...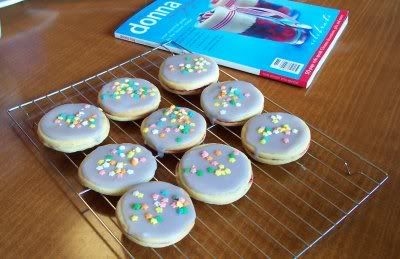 Biscuits were inspired by a new fresh jar of homemade raspberry jam sitting in the pantry from MIL. It is really yummy sandwiched between bikkies made from the Vanilla Angel recipe in
Donna Hay
's Christmas mag. The recipe was attractive as everything just gets bunged in the food processor - they came out a bit tough and may be better made in two batches with my "compact" processor - nicely saved by the jam though and satisfyingly buttery, crumbly and moist.