welcome maya lily
I am really tired. This has been a week where a whole lot seemed to happen. My nose is still dripping but the cold is on the way out, thankfully. Poor Stella had an unexpected visit to the vet with a case of droopy tail which turned out to be a nasty abcess thanks to a chomp from the nasty cat next door. I'm glad she's ok (though very grumpy at being confined inside) but the size of the bill kind of knocked me for six. Eek! Who needs groceries anyway?
I was happy to hear of the birth of baby Maya, and this little suit will be sent off to Torquay this week. Especially nice to have good news in this week of
terrible sadness
for one family that I know from school days.
After dithering around, trying to decide what I'm doing for
Sockapaloooza
, I have just thrown myself into it and decided to try a pair of
Jaywalkers
. Not sure how I am going for sizing or gauge, but I think I'll just get started and see how they look as they take shape. Still a while to go so no need to panic yet!!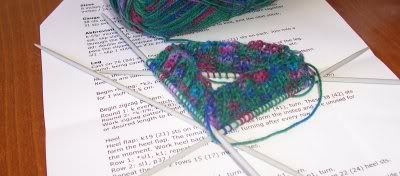 Labels: craft