finished socks reporting for duty
Woo hoo! The socks are finished! I can hardly believe it. The feeling of relief is immense. As I've mentioned before, I'm so bad with deadlines. It's always been the same - at Uni, at work - I am nearly always late for life in general - I don't know why I thought this would be different! I've been feeling very guilty about letting down my sock pal, and being a poor sockapaloooza participant in general... anyway, no matter - I'm done!
I found the
Jaywalker
pattern very well written and easy to follow, once I got the hang of what I was doing and got going on the skinny needles and spiderweb-ish yarn (I think it's going to feel like knitting with spaghetti when I go back to
Samus
).
It took me a while to work out the pattern on the first sock. I am really hoping they my pal fit as the pattern is not very stretchy at all and the foot wound up a bit short (the toe was supposed to be two inches but only took about one).
I've blocked them now (my first
blocking
experience) now and it has really helped to smooth out some of the knobs and wrinkly bits, and they are looking good I think! The macro photo below is probably the best indication of the true colour - here are the socks relaxing in a cool bath :)
As for the experience, now that I'm at the end I can say I did quite enjoy the process but it ended up being a bit stressful and mono-project towards the end. I am happier when I can switch between things and not have the pressure to finish on time. I might try another pair of socks for me some time, perhaps with some softer yarn and a different pattern, but not in the very near future.
I'll post these off tomorrow hopefully, then I can sit back and wait for my own mail-sock-love to arrive!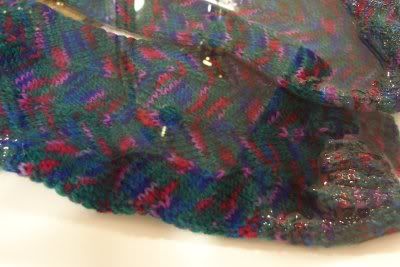 PS. The first photo was taken on my desk at work - we are counting down to the shortest day of the year so it is still pretty dark when I leave for work and very dark when I get home so not ideal conditions for a photo shoot - the socks are resting on my next lot of work-related deadlines - eeek!
Labels: craft